Money Moments: How Using Credit Wisely Can Help You Achieve Your Goals
Money Moments: How Using Credit Wisely Can Help You Achieve Your Goals
Using a credit card may seem like just another way for you to make purchases, but when used responsibly, a credit card can also offer benefits to support your lifestyle – such as cash back, travel rewards, or even gift cards to use at your favorite retailers. Here, five people share their personal stories of how using a credit card helped contribute to their financial health during key life moments.
If You're Just Starting Out
"When you're relatively young, using a credit card can seem a bit daunting," says 27–year–old Liz Amery, a recruitment consultant from Bridgeport, Connecticut. "But in my third year of college, I decided to use one for everyday expenses, so that I could redeem benefits that my card offered. I'm really into music, so having access to concert tickets before they went on general sale was perfect for me. I closely monitored what I was spending, made sure I could always pay all or most of my balance off, and I set up automatic payments so I didn't have to worry about missing a bill while I was trying to focus on my studies."
IF YOU'RE JUST STARTING OUT
Consider a card that can help you start to build a credit history while helping you get more from spending on the things you love. Benefits may include:
Access to purchase pre-sale tickets to concerts
Ability to purchase tickets for access to sporting event
Preferred tickets for food events
Travel rewards and gift cards
If You Love to Travel
Daniel Phillipps, a 29–year–old civil engineer from Portland, Oregon, took time off before college to travel to Europe. "I used a credit card with travel benefits, which gave me flexibility to make the most of my trip, offering bonus points on my favorite travel booking site, which meant that I could make some last–minute bookings without blowing the budget," he continues. "I also got to check a bag for free, which was great when the backpack I left with was no longer big enough to hold all my stuff by the time I was making my way home."
"I think a lot of my friends are unsure of credit because they're worried about getting into debt," Daniel adds. "But using one responsibly and staying on top of my monthly payments was a great way to start building good financial health before I began college."
To find out more about if a travel rewards card may be right for you, check out How to Pick Travel Reward Programs: 4 Questions to Consider.
IF YOU LOVE TO TRAVEL
Consider a card with perks for airline travel or hotel bookings. Benefits may include:
Airline miles
Boarding privileges
First checked bag fee waived
Hotel reward nights
If You're a New Homeowner
"Having rented in Brooklyn for years, I knew that when I came into an inheritance I would use it toward buying my first place," says designer Alyssa Frake, 36, who bought an apartment in Brooklyn's Park Slope two years ago. "I had some savings of my own, but it was still really tight financially to make it happen. All my inheritance and savings went towards the deposit, so using a credit card to help me pay for my day–to–day expenses like transportation, groceries, and other necessities for my home were essential. I found it much easier to track exactly how much I was spending using a card, and the bonus points also helped me offset some costs."
"I was able to use my credit card, which had a promotional rate of no interest on new purchases, for everyday expenses. I used my reward points at retailers to purchase new things for my home," she says. "Another card benefit was that I could have longer warranty periods on appliances, so I was effectively getting more for my money."
IF YOU'RE A NEW HOMEOWNER
Consider a card offering extras for spending on your home. Benefits may include:
Bonus points at certain retailers
Extended warranty
Damage and theft protection
If You're Getting Married
"Getting married can be one of the most amazing days of your life, but you may need to spend a lot of money in order to make it an event to remember," says 31–year–old data analyst Laura Lister, from Oakland, California, who got married in the spring of 2015. "We had a budget going into it, but honestly we must have tweaked it about three times — things really started to add up because we wanted everything to be so special. We had some savings for the wedding but made a decision early on to also use a credit card, so we could also earn something back on the money we were spending."
"It was good to know that even though there were a lot of costs associated with the wedding, we were also receiving some great perks each time we used our card," she continues. "We drew up a payment plan, which set out exactly what we would use the card to buy and in what timespan, to make sure we didn't lose track of our payments. It also helped us calculate how many airline miles we'd be able to accrue, and by the time we got married and returned from our honeymoon, we had collected enough to go away on another trip!"
IF YOU'RE GETTING MARRIED
Consider a card that helps you earn rewards on important purchases, to help your budget go a little further. Benefits may include:
Reward points from hotel stays and other travel
Airline miles
Access to certain airport lounges
Low introductory APR on purchases
If You're Starting a Family
"Looking back to when we started a family, I didn't factor in how much I would need to buy and how that would affect our budget," says Sarah Paulsen, 42, a bank risk manager, who lives in Manhattan with her husband and two children. "From new maternity clothes to diapers to highchairs, it definitely added a few curveballs to the budget we had become used to pre–kids. We decided to use a credit card that offered us cash back on purchases, and because we chose to use our card to furnish the baby's room, it really helped our money go that much further."
To learn more about cash back credit cards, read How Do Cash Back Credit Cards Work?
IF YOU'RE STARTING A FAMILY
Consider a card that gives you more for everyday purchases. Benefits may include:
Points on gas
Points on groceries
Cash back with certain purchases
Points on dining and entertainment
With a bit of planning, choosing the right credit card can help you keep track of your spending and make your money go even further, whatever stage of life you're in. To learn more about how to make credit work for you, read 6 Tips for Becoming a Smart Credit Card User.
Additional Resources

Utilize these resources to help you assess your current finances & plan for the future.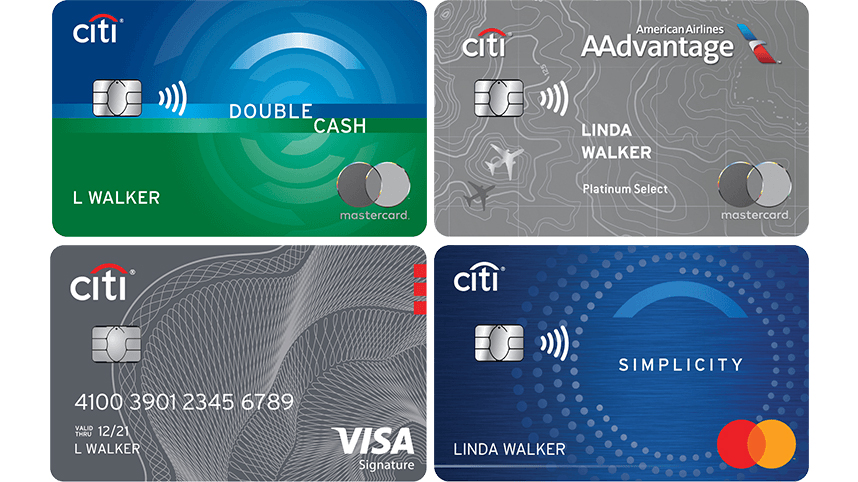 CITI® CREDIT CARDS
Choose the right Citi® credit card for you
Whether you want Cash Back, Great Rewards, or a Low Intro Rate, the choice is all yours.
Learn More >