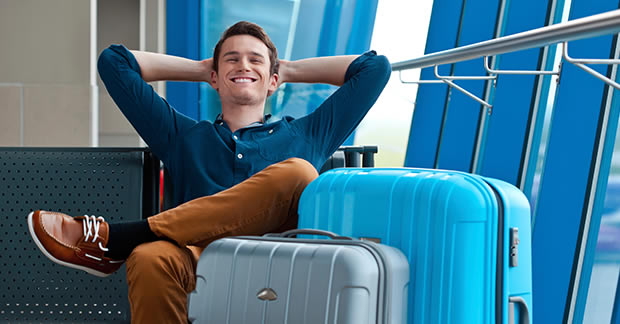 Traveling + rewards: The perks that come with most travel credit cards might all seem good at a glance. But it's worth your time to look into the options before signing up to make sure that you've found the card that's right for you. A few questions to consider:
Before choosing any rewards card, it's smart to think hard about your lifestyle, says Cary Carbonaro, MBA, CFP, and author of The Money Queen's Guide. If you regularly carry a balance, choosing a rewards card with a higher interest rate over a low-interest card may not be the best move, says Carbonaro.
How and where do you like to travel?
If you decide a travel rewards card is right for you, it's probably safe to assume you like to take trips. But how and where? You'll find cards that can offer you discounts on hotel stays, flights, or offer even broader possibilities through well-known travel-booking sites.
First, make sure you'll be able to spend your rewards with the airlines and hotel chains you use most. Hate flying? Then find a card with perks or a travel rewards program that can be applied to rental cars or cruises.
If you fly frequently, look for a travel rewards card that will let you redeem points with a variety of airline partners. With more options, you'll have a greater range of choice as far as flight dates, times, and seats you can book with your reward miles.
A card linked to only one airline obviously will come with more scheduling limitations. Considerable advance planning might be necessary to get your first choice of dates. But if you enjoy carefully planning vacations in advance, then one of those could work for you. "I have family all over the country, and regularly fly to Florida, Maine, and Montana for holidays, celebrations, and reunions," says Jennifer Kelley Geddes, a mom of two and a research editor. "My travel rewards card has been helpful, to say the least. Since most of my trips involve occasions like weddings, graduations, or annual traditions, it's been easy for me to plan ahead. I really haven't had much trouble making use of my miles when I want them."
Does card membership come with any perks?
Being able to get where you want to go, when you want to go is the top priority when picking a travel rewards card. But you'll likely encounter a number of perks that can make traveling more pleasant. While rarely a main consideration, these extras—like access to airport lounges, free checked bag(s), concierge services at hotels, and upgrades—may be enough to tip the scales in favor of one card over another.
Does the travel rewards card offer bonus miles?
Some do, starting you off with a nice chunk of miles or points in exchange for spending a certain amount in purchases on the card within a specified time frame.
Does the travel rewards card have an annual fee?
Nobody likes fees. But don't be one of those people who immediately rule out a particular card as an option because it has one. Do some simple math instead. About how much do you expect to put on the card over the next year? That number, especially if you're trying to maximize rewards by putting all your everyday purchases on the card, may be enough to earn you an amount of miles that more than compensates for the annual fee.
Feel like you have the info you need to select the right travel rewards card for your needs? Now check out 4 Things to Consider When Using Credit Cards While Traveling for the factors you should consider when using credit cards on your next trip.