No Late Fees, No Penalty Rate and No Annual Fee - Ever.1 Plus our lowest intro APR for 18 months.
0% Intro APR on purchases and balance transfers for 18 months; after that the variable APR will be 12.99% - 21.99%, based on your creditworthiness.1
Balance Transfer Fee: Either $5 or 3% of the amount of each transfer, whichever is greater.1
Save time, just say "representative" when you call, to enjoy fast personal help.
No Annual Fee.1
Citi® Simplicity® Card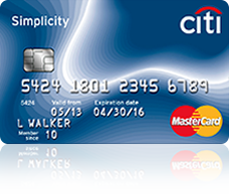 To Apply by Phone, call 1-800-492-2127
Apply by phone: 1-800-492-2127
Overview
Services
Citi® Price Rewind2
Buy now. Save later. Register your covered purchases at citi.com/pricerewind. Citi Price Rewind will search hundreds of retailers' sites for 30 calendar days from the date of purchase to help find a lower price. If one is found that's lower by at least $25, you can get the price difference back.
24/7 Customer Service
Questions about your Citi® card account? Just call the number on the back of your credit card. Just say 'representative' to access fast, live help from a friendly Customer Service representative ready to help with virtually every aspect of your cardmembership (including technical assistance) ––24 hours a day, 365 days a year.
$0 Liability on Unauthorized Charges
Shop anywhere and never lose a penny on unauthorized charges. With $0 Liability you won't pay for any unauthorized charges made with your card.
Citi® Identity Theft Solutions
Identity theft can happen to anyone. If it happens to you, Citi® Identity Theft Solutions can help you resolve the matter and get your life back on track.
We assist you with identifying compromised accounts, filing police reports and taking steps to get your good name and good credit back.
Extended Warranty2
The terms of the original manufacturers' U.S. warranties (three years or less) may be extended up to one additional year on most items purchased on your card.
Choose your Payment Due Date
Choose to pay your bill on any available due date in the beginning, middle or end of the month. Enjoy the flexibility of paying your full balance or just the minimum payment due each month.
2See Additional Information tab for more details.
Automatic Account Alerts
Alerts keep you informed and stress-free. Once you've set up alerts, we'll remind you about your balance levels, payments due, or when you go over your credit limit, by email or directly on your mobile phone.
Online Bill Pay
With Online Bill Pay, you can securely pay your credit card bill online at your convenience and get same-day posting as long as your payment request is received by 5 p.m. ET on a weekday. Schedule up to four payments per statement.
Auto Rental Insurance2
Physical damage and theft to an eligible rental vehicle may be covered when you use your Citi card to initiate and pay for the entire rental transaction and decline the car rental company's collision, loss/damage waiver.
Travel & Emergency Assistance2
With medical and legal referrals and translation services, you're protected while on the road or abroad. Included in this service are Emergency Medical Referral Assistance, Legal Referral Service and Travel Assistance.
2Additional Information
Additional Information
Citi Simplicity® Card
Citi® Price Rewind
Prices are tracked for 30 days from the original purchase date. Citi Price Rewind only tracks online prices. In order to be eligible for a refund, the price difference must be at least $25. Price Rewind refunds are limited to $250 per item and $1,000 per calendar year. Multiple purchases of the same item are limited to a $250 maximum claim payment per sales receipt. The entire purchase amount for the item must be made with your Citi card to be eligible for a refund. Items purchased with Thank You Points are not eligible for this program. For customers who qualify for benefits for the same transaction under Citi Price Rewind, Internet Price Protection and Price Protection coverages, or any combination of those coverages, the Company will only pay under the coverage providing the highest benefit and no benefits will be due under the other coverages. Additional limitations and exclusions apply. Not every product found on this site qualifies for coverage so please see the Description of Coverage for program details and to learn what items are covered.
Auto Rental Insurance
Visa Auto Rental Collision Damage Waiver coverage is secondary coverage and is underwritten by Indemnity Insurance Company of North America. Certain conditions, restrictions and exclusions apply. Not all vehicles and countries are covered. Details of coverage will be provided upon cardmembership.
Extended Warranty
Warranty Manager Service coverage (is limited to the lesser of the amount charged or $10,000 with a maximum of $50,000 per cardmember) is underwritten by Indemnity Insurance Company of North America. Certain conditions, restrictions and exclusions apply. Details of coverage will be provided upon cardmembership.
Travel & Emergency Assistance
Visa Travel and Emergency Assistance provides assistance and referrals only. You are responsible for the cost of any actual medical, legal, transportation, cash advance or other services or goods provided. Details of coverage will be provided upon cardmembership.
To Apply by Phone, call 1-800-492-2127