Wholesale Cards
For over 2 decades Citi's commercial cards have been shaping the way international businesses manage their cash flow and expenses. Our knowledge of the needs of corporate and financial institutions spans 2000 global commercial card programs and 3 million cardholders.
Global Reach. Citi's commercial cards allow you the benefits that come with our global network. Citi's presence extends to over 90 countries and our Visa cards are accepted in more than 30 million locations.
Maximum Program Consistency. As we develop the implementation and management of our cards in house, we do not need to rely on partnerships with other banks. We provide a globally consistent customer experience and standardized reporting across all regions.
Enhanced Control. Citi's cards enable you to stay in control of your expenses. You have full data transparency, easily available through our online function, CitiDirect. You can control card level spend limits for your employees, and receive consolidated detailed reporting.
Tailored for You. To ensure a smooth transition, Citi's commercial cards are designed for easy integration into your business systems. Our commercial cards require very little managerial effort and Citi's commercial cards can be aligned with your business's existing internal uses and policies.
Dedicated Support. Citi ensures that support is available to you at all times. An Account Manager will provide support during the implementation process, and be available on an ongoing basis to consult and advise on issues relating to card management.
Custom Pricing. Citi embraces a policy of flexibility in regards to pricing as we customize the card plans for each customer. Rates are negotiable.
We offer two separate cards, specializing in different functions:
Corporate Travel & Entertainment Card
The T&E card enables you to manage your employees' travel and entertainment expenses with simplicity, efficiency, and convenience. The benefits of the T&E cards include:
Easy, simply and secure method of payment during company travel
Improves ability to negotiate discounts with travel suppliers through better tracking and reporting
Simplifies and automates reporting and expense management for travelers
Purchase Card
With our Purchase card you can streamline your purchasing program and benefit from increased savings, control and process efficiencies. The benefits of our Purchase card include:
Savings in administrative and processing costs per transaction by eliminating purchase orders, invoices, payments and reconciliation
Eliminates petty cash
Provides negotiation leverage with vendors through improved data and reporting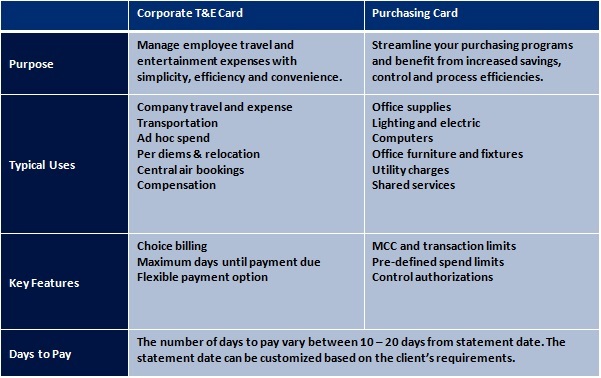 Cardholder's Guideline in Urdu