Enjoy your Citi® card benefits with Samsung Pay
All of the great benefits that already come with your card are there for you when you pay with Samsung Pay.
Learn More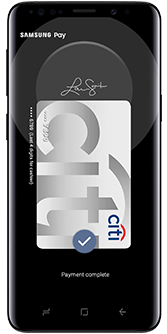 Simple to pay.
Swipe.


Swipe up from the bottom of the screen to pull up your Citi card.

Authenticate.


Touch PIN, fingerprint or iris to authenticate.

Hover.


Place the back of your device against the payment terminal.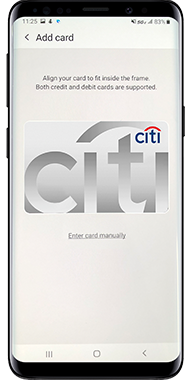 Simple to setup.
Add your Citi credit and debit cards to Samsung Pay in a few simple steps:
Open Samsung Pay on your phone and authenticate.
Tap Menu in the top left corner, and then tap Cards -> Add cards.
Add your Citi® card using your phone's camera, or enter your card information manually. Follow the on-screen instructions to complete registering your card.
Samsung Pay is also available on Google PlayTM as a free download for compatible devices.
Download Samsung Pay >
Turn your phone into your wallet. Samsung Pay is designed to work almost anywhere.
Use Samsung Pay at your favorite stores. Grab your morning coffee with just a tap, shop for groceries on the go, make a quick stop at the local pharmacy and more.
Just look for one of these symbols at checkout:

or

Citi® Benefits
$0 Liability on Unauthorized Transactions.
Enjoy benefits like $0 liability on unauthorized transactions.
Citi Entertainment®
Discover presale tickets and exclusive experiences for concerts, sporting events, dining and more with Citi Entertainment.