4 THINGS YOU NEED TO KNOW ABOUT AIRLINE MILES CREDIT CARDS
Have you ever overheard a friend bragging about earning airfare thanks to a miles rewards program? If so, it's possible your friend uses an airline miles credit card. Cardholders who use credit for most purchases may find these rewards programs play an important strategic role in travel planning. If you're considering applying for an airline credit card, explore your options, because benefits can vary significantly.
1. What is an airline credit card?
An airline miles credit card allows the cardholder to earn miles or loyalty points based upon the dollar value of purchases made with the card. By redeeming accumulated miles or points, the cardholder can earn reduced airfare.
How many accumulated miles the borrower needs to earn in order to redeem them toward reduced airfare depends on a wide variety of factors. These factors may include the rules of the program itself, the cost and timing of the flight, the airline, and special promotions. In addition to reduced airfare, some programs furnish extra benefits, such as credit card car rental insurance.
2. How can I use credit card airline miles?
How you use the miles you accumulate depends on the rules of your program. In general, the more miles you accumulate, the earlier you book, and the more flexible you are, the more options you will have.
If you haven't yet applied for an airline miles credit card, consider your travel preferences. The number of frequent flier loyalty points you've already accumulated, the destinations you want to visit, and the airlines you prefer are some of the things you may want to consider, assuming you qualify for a card. For example, applying for a credit card with no foreign transaction fees on purchases may not make sense if you prefer traveling inside the United States. For more tips on making the most of credit card travel rewards, see 5 Ways to Maximize Credit Card Travel Rewards.
3. What about a credit card with no foreign transaction fees on purchases?
If you travel internationally and you use your credit card for purchases while overseas, then an airline miles credit card that doesn't charge foreign transaction fees on purchases may save you money. Such fees may be $1 or more per transaction, or even a percentage of the purchase price.
To make sure the credit card you're considering doesn't charge foreign transaction fees on purchases, check the card's website, or call the credit card provider. While nobody likes to pay fees, a foreign transaction fee may not be a deal breaker. Consider if what you'd potentially pay in fees will outweigh the other perks offered by that card. For example, you may be better off with a credit card that charges a $100 annual fee but offers free checked baggage.
Foreign transaction fees aside, many international travelers might prefer to use a travel credit card rather than cash for purchases made while on vacation. For more on what you may want to think about when traveling abroad, read 4 Tips to Consider When Using Travel Credit Cards Overseas .
4. Are extra benefits, such as baggage or trip cancellation protection, worth it?
Checked bag fees are a potentially avoidable expense. These fees can run from $25 to $50, depending on the airline and number of bags – and this can increase if the bag is over the airline's weight limit. Avoiding this fee can be a welcome savings, especially if you're traveling overseas, when a carry–on might not be sufficient.
Other potential perks include early boarding and discounts on in–flight purchases. When you tally up what you might spend on a flight – around $9 for a meal, $7 for a glass of wine, $4 for headphones, and $5 for a blanket, depending on the airline – you may decide that such discounts would be beneficial for you.
The bottom line? Airline credit cards can provide borrowers with access to meaningful savings and perks. Just make sure you apply for the credit card miles program that's right for your needs.
Additional Resources

Utilize these resources to help you assess your current finances & plan for the future.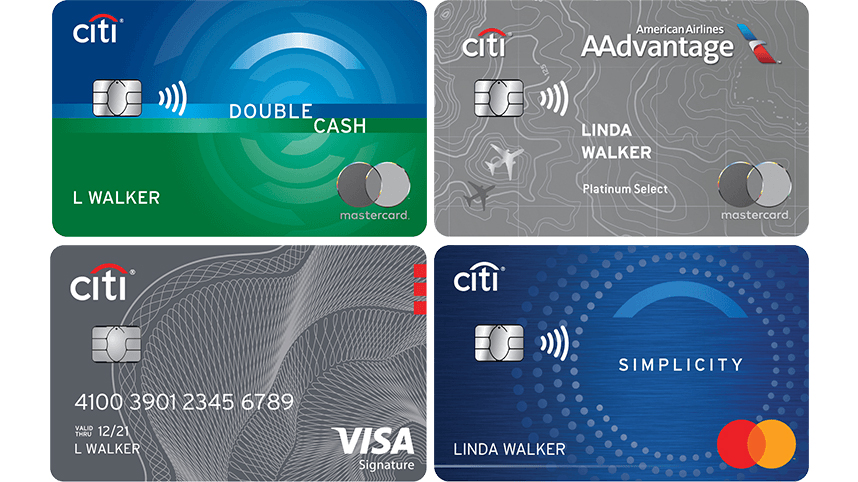 CITI® CREDIT CARDS
Choose the right Citi® credit card for you
Whether you want Cash Back, Great Rewards, or a Low Intro Rate, the choice is all yours.
Learn More >