Citi Ventures Partners with "Founders You Should Know" to Connect Startups to Top-Flight Talent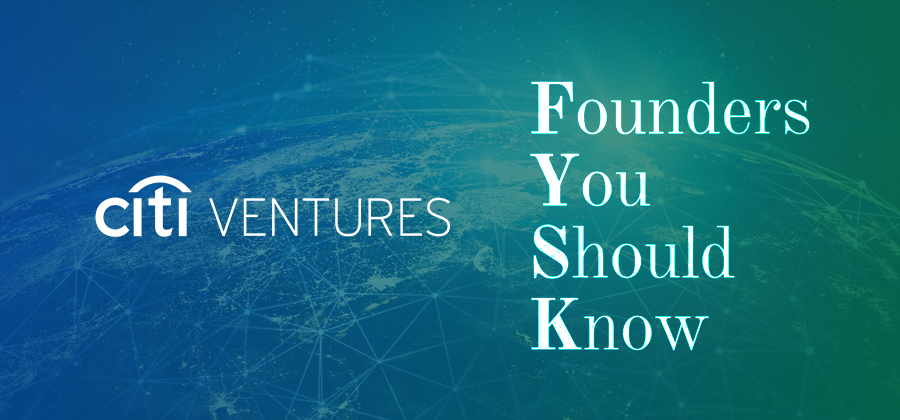 2022 has been a difficult year for startup founders and tech talent alike, with venture capital deals on track for their sharpest drop in over 20 years and Silicon Valley laying off workers by the tens of thousands amid the ongoing economic downturn.
In these challenging times, it is more important than ever to bring companies seeking employees together with top-tier talent looking for their next opportunity—which is why Citi Ventures partnered with the Founders You Should Know (FYSK) community to help do just that
Started by Jen Yip, a tech industry veteran who struggled to break into the "whisper network" of high-growth startups when she moved to San Francisco in 2013, FYSK organizes in-person events that give founders the opportunity to pitch their startups to potential employees. Recently, Citi Ventures began hosting FYSK events in our San Francisco office, helping emerging tech companies attract the hottest talent in Silicon Valley.
"We provide FYSK with a literal and figurative space for those connections to be made," says Max R. Mailman, a Citi Ventures investor and FYSK member who has spearheaded the partnership.
FYSK carefully curates its events and participants to facilitate the best possible talent matches. All presenting founders are either known by the FYSK team, nominated by a company that has already presented, or nominated by an investor, and are vetted by FYSK to ensure that their company—which range from seed to Series B stage—is a good fit for the audience.
Selected founders then get five minutes to tell an audience of 60-100 engineers, product managers, and other highly sought-after employees why their company is best-in-class—and why the talent in the room should consider working for them. The events also feature a "lightning round," in which five founders of earlier-stage companies get one minute each to pitch to talent.
After its events, FYSK follows up with its participants to match talent with available jobs at startups. For example, following its September 2022 event, FYSK made 206 introductions between founders and interested talent via email. FYSK also connects founders and talent by sharing videos of the presentations on their YouTube channel, Twitter feed, and newsletter, and hosts a dinner the night before each event at which founders can network and get informal mentoring from each other and from Citi Ventures investors.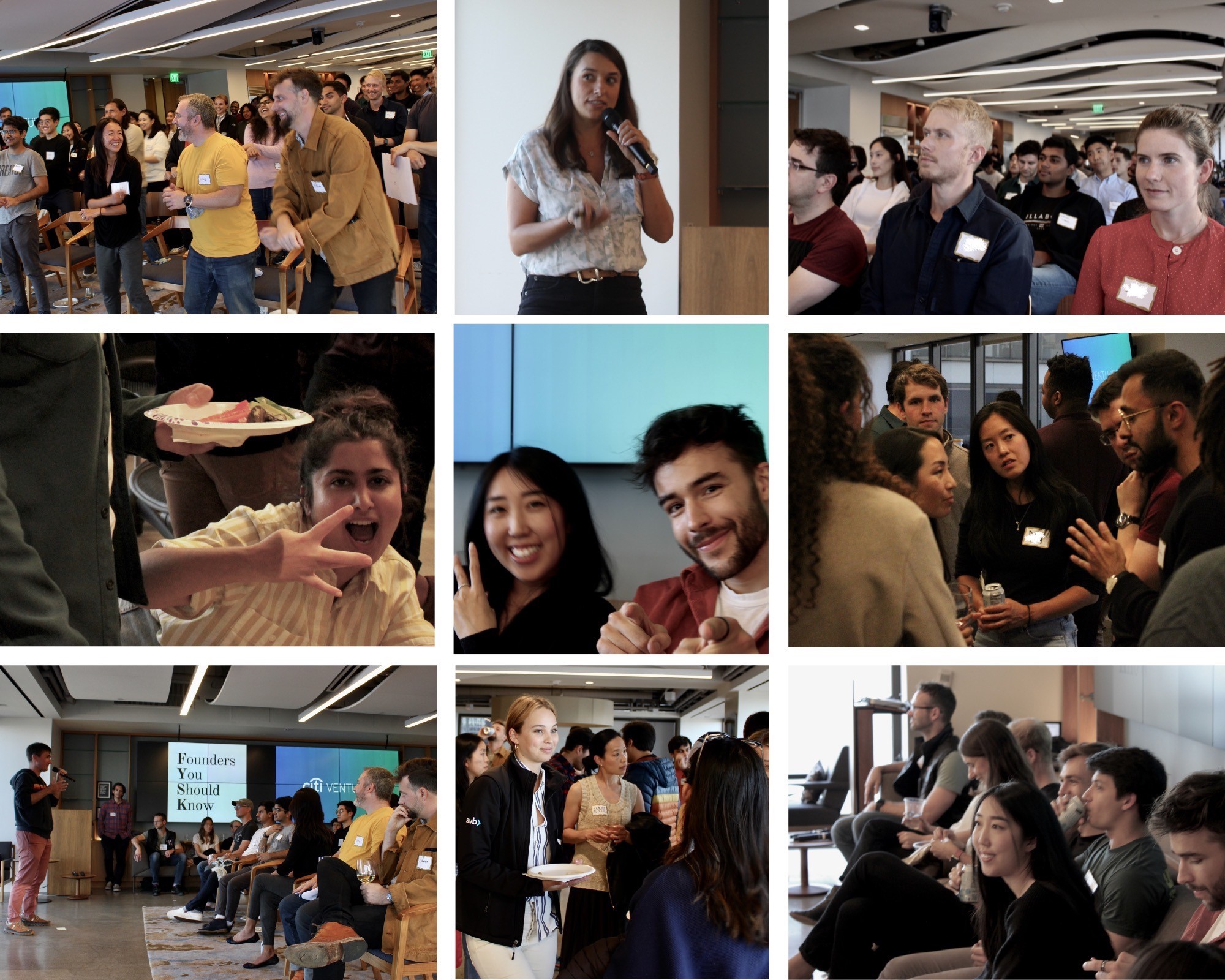 Source: A Founders You Should Know event at Citi Ventures San Francisco in August 2022
Now in its sixth month as an in-person series of gathering, Founders You Should Know is drawing rave reviews on all fronts. Mary Yap, the founder of "agtech" startup Lithos Carbon and a recent FYSK presenter, wrote:
FYSK brought together a spirited, inspiring, diverse, and talented community. Both nights flew by. Loved the energizing conversations and the selective community that Jen has built. The pre-event dinner was a great opportunity to meet some amazing founders, and the FYSK mentors were great sources of tailored feedback and advice. Just hours after the event, our inboxes were flooded with exceptional inbound recruits. The quality of attendees was superb, and I would recommend FYSK to any founder!
For Citi Ventures, partnering with FYSK enables us to not only meet and mentor the next high-growth startup founders, but also to network with other VC firms, learn more about the most compelling trends in tech, and even help our own portfolio companies find the talent they need to grow (such as Deepgram, which presented at the August FYSK event). Most importantly, it gives us a way to convene some of the brightest minds in the tech ecosystem and support their personal and professional development—a role we are proud to play wherever and however we can. "At the end of the day, what makes these events so great is that they connect the Citi Ventures team [to the startup space] across different dimensions: hiring, dealflow, and brand," Max notes.
FYSK founder Jen Yip sees tremendous value in the collaboration as well. "Citi Ventures has been an incredible partner to Founders You Should Know," she says. "Max, Blaze, and the entire team have helped us grow the community and connect with founders of high-growth startups. They've provided such a warm and welcoming home for our community—a true testament to their support for the startup ecosystem."
The most recent FYSK event, held at our San Francisco office on October 19, was the biggest one yet, with over 100 attendees and over 70 company nominations. With continued growth and an ever-expanding network of startups and tech operators on the horizon, we at Citi Ventures look forward to deepening our relationship with FYSK and helping even more of the best young tech talent find the founders they should know.
To learn more and apply to attend future FYSK events, visit foundersysk.com.