Citi Ventures Hosts First-Ever
Enterprise Technology Summit
In 2019, Citi Ventures hosted its first Enterprise Technology Summit in New York City, focused on the ever-increasing—and increasingly necessary—tools, data and information needed to fuel today's intelligent enterprises. The two-part event brought together Citi executives, startup CEOs, and Citi clients to share best practices and perspectives on the future of emerging technology in the workplace.
With worldwide spending on enterprise tech expected to reach $4 trillion this year, companies are hard-pressed to stay ahead of the digital curve. That said, with the number of emerging technology vendors and startups constantly growing, companies can't just be quick to adopt—they have to be more strategic than ever when curating their portfolio of IT services. To help technology executives navigate this intimidating ecosystem, Citi Ventures launched a Technology Council to help both Citi's internal leaders and Citi clients exchange the latest forward-thinking approaches to modern IT resources and trends. The Enterprise Technology Summit was the Technology Council's largest event of 2019.
Summit Overview
The summit kicked off with a welcome address from Vanessa Colella, Citi's Chief Innovation Officer and Head of Citi Ventures, who discussed "finding signal in the noise" of innovation and disruption. Her speech was followed by a fireside chat between Arvind Purushotham, Citi Ventures' Global Head of Venture Investing, and Mike Whitaker, Head of Enterprise Infrastructure, Operations & Technology at Citi, on some of the challenges and opportunities multinational enterprises face in 2020. In a wide-ranging conversation, the two stressed the need for both speed and collaboration when determining the best way forward.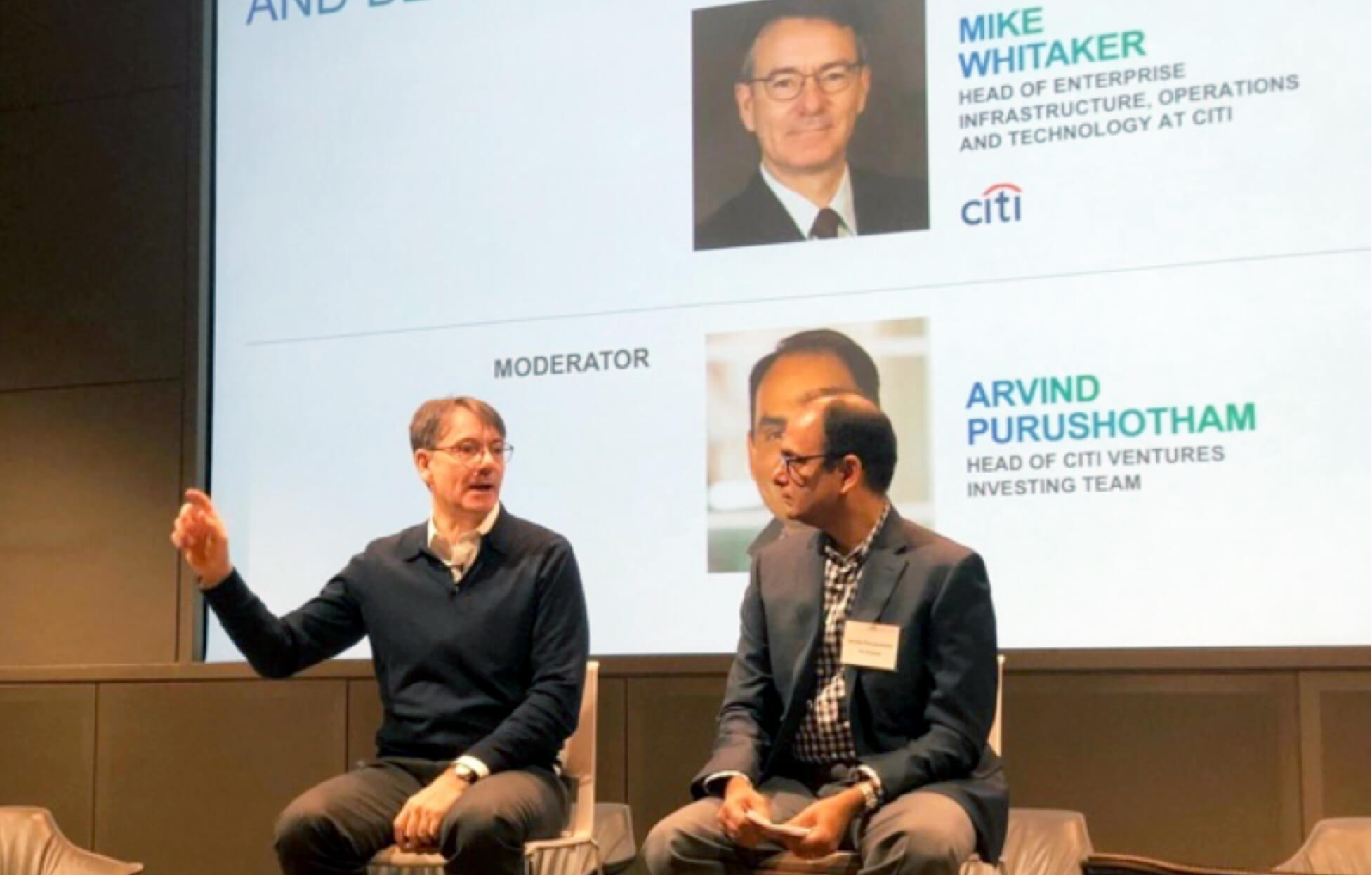 The rest of the morning session was devoted to a variety of panels featuring both Citi executives and startup leaders, on such topics as ecosystem partnerships, best practices for enterprise-startup collaboration, and driving efficiencies through AI, automation, and data insights. One of the panelists, Phill Rosen, CEO of Even Financial, spoke about the consumer process of finding financial services being segmented and slow—leading to lots of prospective consumers dropping off early in the funnel. Even has made the consumer experience for searching and getting matched with financial services easier, allowing channel partners to offer top financial products and services—loans, savings, credit cards, insurance, more—with turnkey marketplaces via their API. Rosen credits Even's success to "enabling banks and financial service providers to distribute their products into any experience."
John Scuorzo, Head of Technology Equity Capital Markets at Citi, also spoke about the IPO market outlook and scaling for growth. Citing the stellar performance of tech sector equities (37% YTD growth in 2019) over the S&P 500 (23%), his 2020 forecast sees even more expansion into broad and growth software over internet and fintech sectors. Scuorzo also noted investors' affinity for enterprise software in particular, as it can consistently answer key questions related to high growth, long-term margin potential, and driving sales efficiency and operating leverage.
The afternoon session broke out into three tracks—Data Analytics, Cybersecurity, and Intelligent Enterprise—and were conducted in a roundtable format to allow practitioners to exchange insights and best practices and discuss industry trends. The sessions followed tailored formats based on participants' key interests and perspectives, and featured panels of experts including Girish Arora, Head of Citi Smart Automation; Rich Webley, Head of Citi Global Data Insights; and Shrikant Dash, Global Head of Analytics & Information Management at Citi GCB.
Key takeaways - Data Analytics
The biggest hurdles to becoming a data-driven company are 1) limiting accessibility to data across the company, and 2) limiting availability of clean data. To combat this, companies can leverage machine learning to automate data prep and broaden accessibility.
There is an immense opportunity for startups to partner with large institutions to improve their data pipeline and accelerate their speed to market. Kinetica CEO Paul Appleby spoke about addressing this opportunity with a dashboard they've built for five of the largest US banks looking to aggregate and calculate risk across their businesses. Appleby explained that by shifting these clients away from passive analytics that calculate risk in a batch overnight, Kinetica helped these banks implement an active analytics approach to calculate an on-demand valuation adjustment in credit, debt, margin, funding, and liquidity for derivative trading.
Companies should be leveraging alternative data to drive business strategy. Second Measure, a leading provider of data analytics, helps investors and consumer brands gain valuable insights into consumer spending patterns and business performance. CEO Mike Babineau described how, using data from billions of transactions, Second Measure's self-service platform enables daily tracking and real-time exploration of thousands of public and private companies.
Data management is getting increasingly complex as data-driven applications attempt to stitch data together from a variety of first-, second-, and third-party sources, spread across in-house networks as well as in the cloud. Companies should understand that managing the data will becomes its own task in addition to managing each application and should plan accordingly.
To ensure customer touchpoints build long-term brand value, companies should embrace design thinking as they begin securing their underlying data and analytics. As data privacy emerges as an issue, thoughtfully designed experiences that clearly communicate value to customers will facilitate access to richer, more contextually relevant data. Flybits CEO Hosein Rahnama showed how the power of data can help financial institutions create next-level experiences for their customers: "The evolution of banking is one where contextualized data allows banks to better understand who their customers are and what they need in real-time, so they can deliver more relevant and valuable customer experiences." With patented technology, Flybits helps banks aggregate all their disparate data sources and enrich them with context, so they can address highly targeted audiences. This unique and powerful approach to personalization lets banks deepen the relationship with consumers and become a valuable and trusted partner in their lives.
To produce next-generation experiences while adhering to new privacy laws, companies must be creative when handling the nuances between data itself and the insights derived from that data. With its inherent privacy-centric design, edge computing could provide enterprises with an effective approach to this challenge.
Key takeaways - Cyber Hygiene
With the onboarding of every new vendor, a company's cybersecurity challenge becomes more complex. Because of increasing vendor sprawl, proper cyber hygiene is increasingly crucial to the security of the entire organization.
To maintain this hygiene, it is essential for companies to conduct a thorough inventory of their assets, combined with ample visibility into their data and middleware. Because it is difficult to uncover blind spots, companies must institute processes that aggregate data across discrete business silos.
Now that API integration has become table-stakes for vendors, companies can benefit from empowering communication between multiple solutions. Companies can also enhance their resources by leveraging data feeds and risk engines from other vendors.
To strategize their approach to cyber hygiene amidst limited resources, companies must add context and risk scores to prioritize their needs. At the same time, they can leverage risk analytics with out-of-the-box solutions instead of retro-fitting their in-house managing models. Ed Bellis, CTO and Co-Founder of Kenna Security, explained how its platform was engineered to ingest a wide variety of data sources and convert it into meaningful—and more importantly, actionable—risk metrics. Enabling companies to aggregate and normalize the output of their various vulnerability and asset discovery solutions, Kenna provides universal risk scores so both security and IT teams can take immediate action. This helps companies close blind spots and efficiently manage their infrastructure hygiene by prioritizing the vulnerabilities that pose the greatest risk to their business.
Key takeaways - Developer-Driven Security
Many information security teams find themselves chasing developers and IT managers in order to address issues as they arise, creating an adversarial or transactional relationship between those teams.
While security teams may be frustrated with developers, pressing business needs push developers to code as fast as possible, as they lack incentives to take the time to code with a holistic approach to security from the start.
Fortunately, new technology can enable a cultural change that empowers developers without sacrificing security controls. Instead of issue-spotting, security teams can evolve into a collaborative and advisory role for developers, helping to instate a preventative mindset and minimize feedback loops.
In order for developers to become the new first line of defense, they must be adequately equipped with new security knowledge and preventative tools. Further cultural change can come from creating new rewards and incentives for developers who then improve the quality and security from the very start.
By refactoring organizational processes and functional relationships, as well as embedding more tools and information into continuous integration/continuous delivery workflow, companies can drive the necessary change toward developer-driven security.
Key takeaways - Cloud Operations Security
As foundational visibility into cloud environments becomes rapidly commoditized, the main challenge for companies lies in how to derive real value from that data—moving beyond mere accessibility to tangible insights and action.
Cloud services providers continue to improve the quality of their data and visibility capabilities. Because third-party services must present a differentiated data set, instrumentation and architecture play a key role in expanding coverage through new vantage points.
As companies transfer their assets and systems to the cloud, the move's impact on controls presents a cultural shift for the organization. To satisfy the diverse needs of multiple teams, data and cloud controls must be optimized for both agility and security.
In these highly dynamic and constantly-evolving environments, companies need to instate more comprehensive oversight as well as automation. A flexible and adaptive approach is necessary to strategize each stage of cloud adoption.
Key takeaways - Intelligent Enterprise (Automation)
It is crucial to "get the data" on businesses' actual, existing processes via process mining and process discovery.
To successfully harness multiple resources, companies must create a centralized Center of Excellence (COE) as a highly efficient way to share learnings across the organization.
Vertical solutions generally have more built-in intelligence, allowing for faster integration and a quicker return of value.
As scaling automation can be challenging, companies should first tackle the easy processes to build momentum, understanding that the transformation is a marathon, not a sprint.
Citi and our partners are also tracking many other areas ripe for future innovation. These include:
Process Mining and Discovery
Before automating, companies must understand their work processes, many of which have been ingrained for years. This presents an opportunity for process-reengineering prior to automating. As current solutions use both front-end UI interactions as well as back-end event logs, and up to 50% of RPA cost comes from services for an implementation, there is a massive opportunity to make these solutions easier to create, deploy, and install.
Monitoring, Change Management, and Analytics
Because many bots break on a regular basis, managing these updates and changes can dramatically impact an enterprise's overall ROI. Ongoing change management and orchestration can be fostered through more sophisticated systems that can automatically adapt to changes, or via streamlining to more effectively manage changes with minimal resources.
Effective Human-Bot Collaboration
Because first-generation automation solutions can't handle complicated task variations, there is still a need for human orchestration.  That said, as the next wave incorporates machine learning and AI to enable bots to learn and make decisions over time, the most sustainable solutions will enable "attended robots," allowing human-bot collaboration on various business processes—not only with traditional UI platforms, but also through voice and text-based interfaces.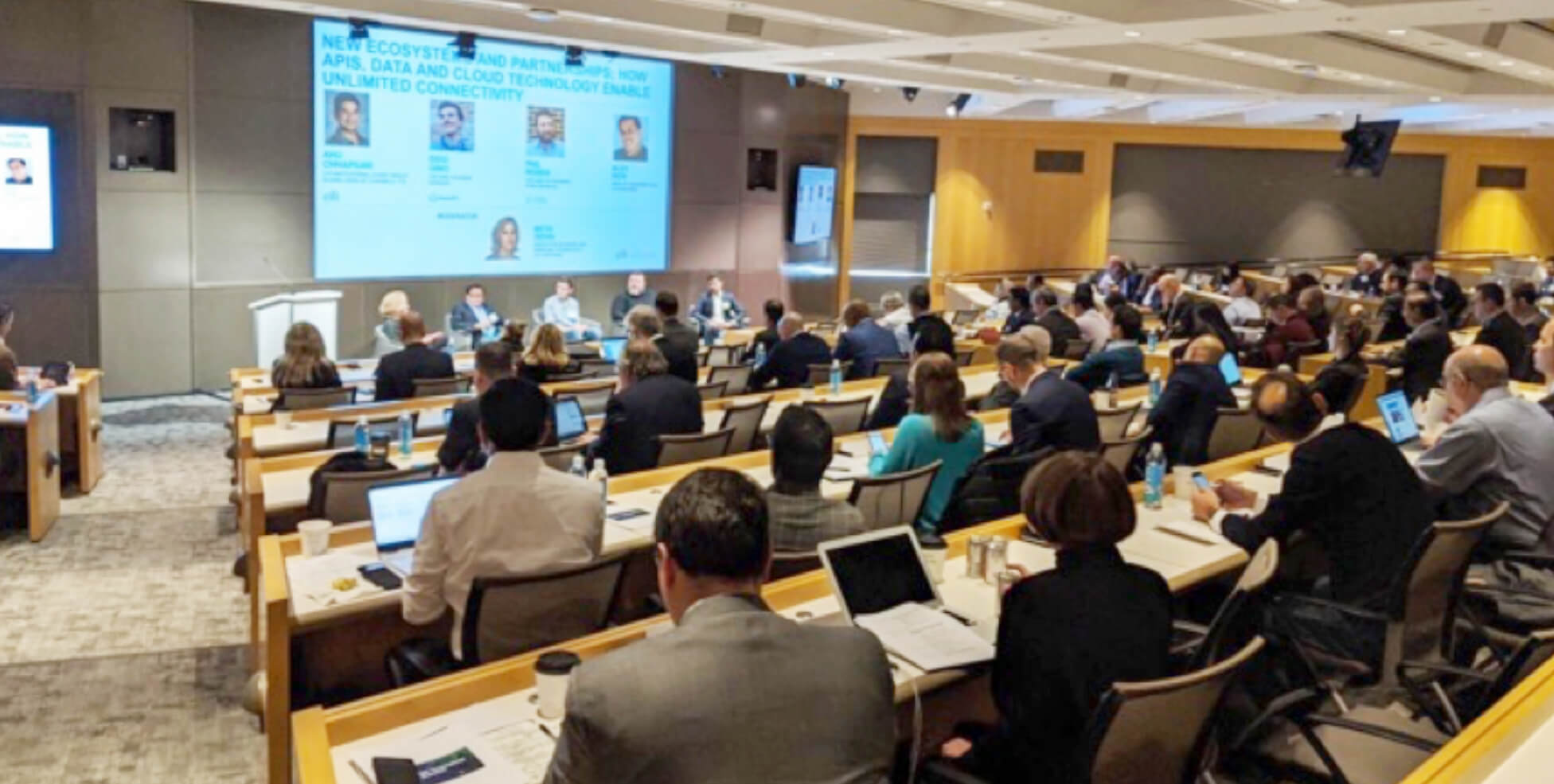 Final thoughts
Enterprise Tech Summit participants left with a wealth of new insights and perspectives on how to strategize for the future of IT services, the panel talk on Quantum Computing was noted as a particularly engaging discussion: "It was truly informative and mind-blowing at the same time," said Girish Arora. "I was impressed by the range of topics we were able to cover in one day."
With an ever-greater number of vendors helping companies rethink their approach to enterprise tech, summit participants concluded, now is not the time to sit still. There is no slowing down on cybersecurity, and technology executives need a seat at the boardroom table. A collaborative approach is the best way forward, and holding back on spending to upgrade in the near term will cost exponentially more in the long term.
Thanks to our participants