City Builder by Citi Wins at U.S. Census Bureau's Opportunity Project Demo Day
Citi Ventures is thrilled to share that City BuilderSM by Citi - a free, data-driven platform that seamlessly aggregates information about U.S. Opportunity Zones – won the "Building Thriving Communities" category at the U.S. Census Bureau's Opportunity Project Demo Day on Tuesday, December 10th, 2019. Ryan Harper and Linda Ge, the leading product managers of City Builder, accepted the award on behalf of the team.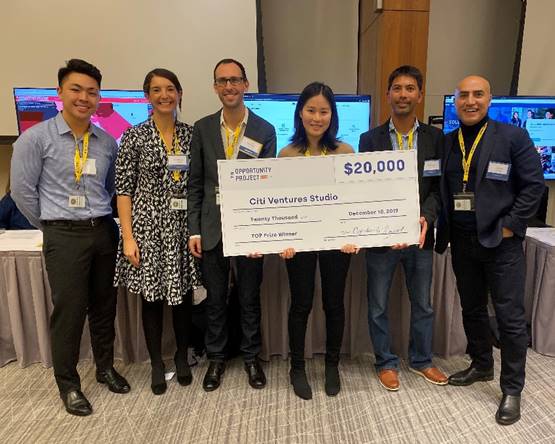 City Builder aims to increase transparency and access to place-based information in order to help investors, fund managers, developers, municipalities and community members work together on community development projects. With greater access to pertinent information, City Builder supports stakeholders who are interested in making more impactful investments in areas where capital is needed most.
With the City Builder platform, anyone can easily find information about U.S. Opportunity Zones and share this information among potential partners. The site's functionality allows users to:
Explore Opportunity Zones to analyze and compare the unique characteristics of Opportunity Zones across the country, including population, demographics, education, land usage, mobility scores and more.
Identify community needs by understanding the priorities of residents like affordable housing, food access, job creation, youth services, pedestrian amenities and plumbing facilities.
Find Qualified Opportunity Funds actively seeking capital to gain insights into their investment and geographic focuses.
This award from the U.S. Census Bureau follows a development sprint working with The Opportunity Project, a collaborative effort between government agencies, technology companies, and nongovernment organizations to translate government open data into user-friendly tools that solve real world problems for families, communities and businesses nationwide. The City Builder team was honored to be a part of this year's Opportunity Project program.
To learn more, please visit https://citi.com/citybuilder or email the team at citybuilder@citi.com with any questions.