Citibank Online Investments – Time Deposits
Citi Introduces Citibank Online Investments Time Deposits in Pakistan
Citi is pleased to offer our clients in Pakistan access to Citibank Online Investments (OLI) a global, secure, web-based investment portal offering the short-term investment option of Time Deposits. Citi's portal integrates investment activity with your global cash management operations.
Invest surplus cash in Time Deposits across multiple currencies and tenors, all online from a single application:
View rates, initiate trades and receive immediate trade confirmation
Automated settlement to your Citi Account
Streamlined setup for existing users in CitiDirect BE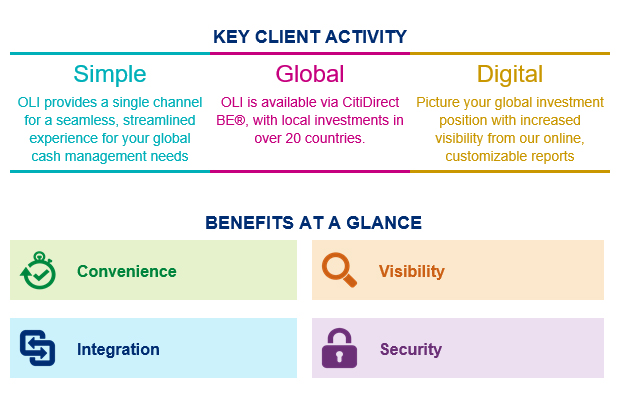 Need more information?
Click here to access Citibank Online Investments via CitiDirect BE.
Click here for accessing the user guides of Citibank Online Investments.
If you have any further questions please don't hesitate to reach out to your relationship manager or respective service touch points at citiservice.pakistan@citi.com.