Everything You've Ever Wanted to Know About Credit Cards
Considering applying for a credit card for the first time? Or maybe you already have one and are comparing it with the benefits of another? Used responsibly, a credit card can be a valuable asset in helping build a healthy credit history by showing lenders that you have a sensible approach to borrowing. Looking for other credit card tips on how to use credit wisely? Read on below to find answers to some of the most commonly asked questions about credit cards.
1. How many credit cards should I have?
There is no definitive answer to how many credit cards you should have, but depending on your spending habits, you may want to consider having more than one card depending on the benefits each offers. Sean McQuay, a credit card expert at NerdWallet, suggests that having more than one card can give users flexibility.
However, it's also worth being selective when it comes to the overall number of cards you have. There is no magic number, adds Eric Gabor, certified financial planner and founder of Eagle Grove Advisors. Too many cards could add complexity to your life if, for example, they have different payment due dates or credit limits, which could make it harder to stay organized while you keep track of more than one account.
For more information on what type of credit card may be right for you, take a look at Can the Right Cash Back or Rewards Credit Card Help You Save Money?
2. What about credit limit increases?
Your credit limit is the maximum amount of credit that your lender allows you to borrow on a credit card account. The credit limit will be disclosed to you when you first open your credit card account, but you may be able to request an increase if you maintain timely payments and use your card in line with the terms and conditions of your card issuer. If you are responsible, and pay your bills monthly without carrying a balance, you may want to consider requesting a higher limit, explains Gabor.
Having more money to spend may provide you with some additional financial freedom, but it is important to think about how you spend and whether you are able to responsibly manage a higher limit. This can be useful if you are planning to make large purchases and can pay the bill in full at the end of each month. But whether this is an option for you or not depends on several factors, including your credit history; there is no one-size-fits-all answer. Remember, credit limits should have no bearing on your spending. Spend according to your budget, not your credit limit, adds McQuay.
3. What type of charges should I expect?
Credit card fees can vary depending on the type of card you choose. So understanding the kind of charges you may expect can help when considering which card is right card for you.
Most credit cards will have a number of standard fees that are part of your agreement with your card issuer. Common fees include balance transfer fees, which are incurred when you move a balance from one credit card account to another, and cash advance fees for withdrawing cash against your credit limit. Some card issuers may also charge an annual fee for the card
If you're paying an annual fee, choosing a card that works for you – with perks that suit your spending habits – is a good way to make the most of your card. For example, it may be worthwhile paying an annual fee for a card with travel rewards or points that you're confident you'll be able to maximize. Managing Partner at Innovate Wealth, Steven Sivak says, Some cards will provide great benefits, but may have higher annual charges, while there are cards with no annual fee that also provide benefits. So considering whether a card offers rewards that match your spending habits is worth doing.
For more ways to improve your credit savvy, check out 6 Tips for Becoming a Smart Credit Card User.
4. Should I cancel unused cards?
This very much depends on your personal circumstances and credit history. If you have a credit card you don't use, you may consider canceling it to avoid paying annual fees. But before you close your account, it is worth keeping a few things in mind, particularly if you have had that credit card for many years. If you find you are not using your card, then it is probably worth thinking about canceling the card. However, consider how this will impact your credit score. Length of credit history can be an important factor in influencing your credit rating, which could be impacted when you cancel a card, explains Cady North, founder and CEO of North Financial Advisors.
5. What will happen if I miss a payment?
If you are late with a credit card payment, you may be responsible for paying a fee – but the first step you should take is to get in touch with your card issuer to see what your available options are.
There are, of course, some effective steps that you can take to help avoid missing payments to begin with, such as setting up automatic payments or creating your own payment reminders. Don't forget that missed payments could have an impact on your credit rating, depending on your personal history.
To learn about more about your credit report and history, check out What Your Credit Report Really Says About You – and Who Can See It.
Additional Resources

Utilize these resources to help you assess your current finances & plan for the future.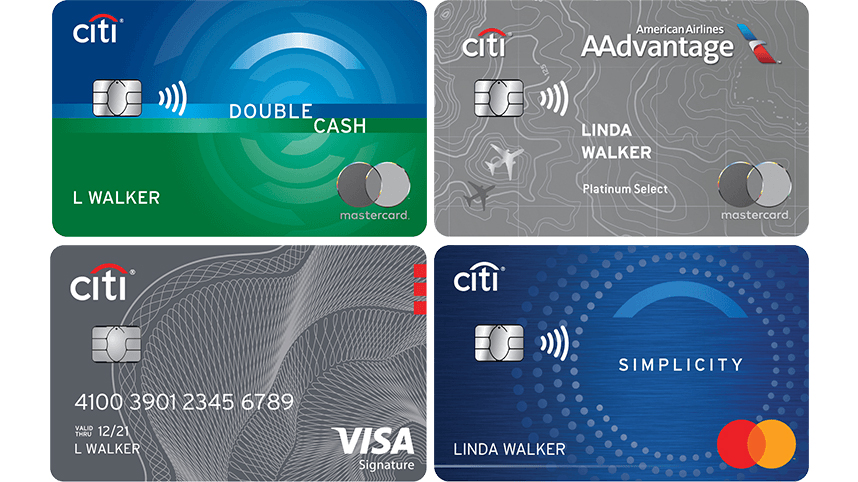 CITI® CREDIT CARDS
Choose the right Citi® credit card for you
Whether you want Cash Back, Great Rewards, or a Low Intro Rate, the choice is all yours.
Learn More >