JAN – FEB – MAR

NEW BEGINNINGS

Earn 5%
cash back at:*

Home Furnishing Stores

Offer Ends
3/31/17

APR – MAY – JUN

CELEBRATE SPRING

Earn 5%
cash back at:*

Drugstores

Fitness Clubs

Sign-up Begins
3/15/17

JUL – AUG – SEP

SUMMER FUN

Earn 5%
cash back at:*

Airlines

Sign-up Begins
6/15/17

OCT – NOV – DEC

HOLIDAY SHOPPING

Earn 5%
cash back at:*

Department Stores

Sign-up Begins
9/15/17
Sign up now
Sign up for this quarter and get 5% cash back at drugstores and fitness clubs including favorites like:
CVS Pharmacy
Walgreens
Rite Aid
LA Fitness
24 Hour Fitness
New York Sports Club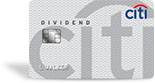 Plus,
earn 1% on other purchases with your Citi
®
Dividend Card.*
Don't miss out.
Select your calendar to get future cash back bonus reminders.