How Credit Card Rewards Satisfy Summer Hull's Wanderlust
When it came to saving for vacation, mother and travel addict Summer Hull turned to creative ways to make the most of her salary. It was when she looked into credit card reward points and miles, however, that she finally discovered the perfect way to combine her two passions: her two children, and traveling.
The Texas native has spent the last six years expertly balancing her obsession with collecting miles and her responsibilities as a parent. Today, she runs Mommy Points, where she documents her travel experiences and advises others on how they, too, can travel in style.
We spoke to Summer about her globe-trotting adventures and asked her for some tips and tricks on how to start accumulating points.
Why did you decide to start Mommy Points?
To be honest, I think my husband just grew tired of hearing me talk about airline miles, so much so that he set up a website so that I could blog about my pursuits. It was a nice gesture, but one that I think was born from not wanting to hear me go on about my point-scoring ways.
I resisted the notion that the whole business was a waste of my already-limited time with a 1-year-old at home and gave it a good shot. Before too long I was shocked but thrilled to find that other people were actually really interested in what I was writing.
How is your take on accumulating credit card rewards different?
When I started, I was pretty much the only person blogging about miles and points from the perspective of a mom, or really a parent at all. With time, I'm happy to say that other parent bloggers have joined the party, although many of the largest sites still adopt the perspective of a male with no children.
Once children enter the equation, what's realistic and desirable changes. I used to travel more than 100,000 miles a year and maybe a couple times a month, but since we had our second daughter we've scaled back to every other month or so, with big family trips happening about three or four times a year.
I try to keep my site focused on deals and experiences that make sense for people who don't have the luxury of being able to hop on a first-class flight to China with a day's notice, and who can't spend hours going in circles just to collect miles.
What is it about traveling that you love so much?
That's a great question; unfortunately, I can't help but answer with a few clichés. I love the feeling of setting off from home and eventually arriving in a totally different place. I love being able to step out of my day-to-day routine and into an entirely new setting, whether it be just me, or with my family, or with my friends for company. Really I love it all, except maybe the exhaustion.
What's the best trip you've been on using credit card reward points?
For my husband's 40th birthday a few years ago we literally flew around the globe - and in lie-flat seats! Stops along the way included Amsterdam, the Maldives, and Singapore, and the whole vacation was incredibly special for the both of us. I never dreamed I'd stay in a private villa in the Maldives courtesy of points, but I did exactly that, and it was every bit as awesome as it sounds.
There are still so many places on my radar. From Australia and New Zealand, to Fiji, Iceland, and beyond, there's more out there that I'm waiting to see and experience. Once my youngest daughter is a bit older it'll be much easier to go to some of the more remote destinations on my list.
How do you accumulate so many credit card reward points?
I'm honestly the exception in the points world in that I truly don't do crazy things to earn miles and points. They're things that anyone in any normal situation can do, provided they keep an ear to the ground and look out for offers. This might mean my pursuits sound a little less exciting, but I also think it makes them more relatable and repeatable.
I get credit card sign-up bonuses when they're at their peak, leverage bonuses on specific items everywhere from the gas station to the grocery store, and make online purchases via airline shopping sites. Of course, I also earn miles and points whenever I travel, and sometimes take advantage of any desirable bonuses put out by hotels and airlines.
I'd say get at least one solid rewards-earning credit card that aligns with your travel goals. Not all credit card points and miles are created equal, so put thought into what you get and try to time it with an increased sign-up bonus.
Use that credit card to pay for everything from daycare to car insurance to groceries and gas, as long as you aren't paying an extra fee to do so, and pay off your bill each month. It's amazing how quickly miles and points can add up just through your everyday spending.
The internet is really a good place to start before you even get a credit card, since some points are worth more than others based on the location or time of year you're traveling. Just searching for something like where to stay in London on points for a family means you'll probably find all the information you need already outlined for you.
What would you say to those who want to travel using credit card rewards?
Believe that anything is possible with some patience and planning. Start small and with a specific goal in mind. Follow the bloggers who have already laid the foundations, speak to others who are dipping their toes in the points pool, book your first reward ticket, and never look back.
Additional Resources

Utilize these resources to help you assess your current finances & plan for the future.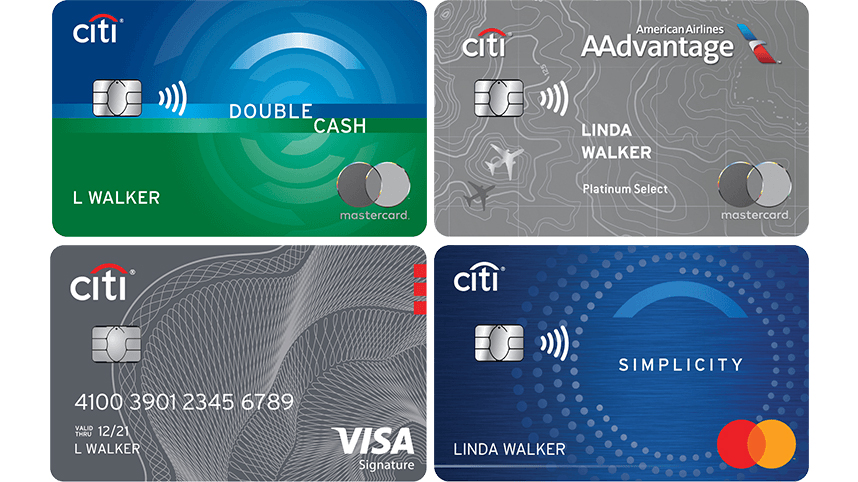 CITI® CREDIT CARDS
Choose the right Citi® credit card for you
Whether you want Cash Back, Great Rewards, or a Low Intro Rate, the choice is all yours.
Learn More >