12 Smart Travel Hacks to Save You Time & Money
By Anna Davies
When it comes to travel, there are big tasks such as buying airline tickets and asking for time off work that take precedence in the weeks leading up to wheels up. But after your plans are set, it's smaller stressors — such as keeping track of documents and making sure you have everything you need — that can lead to frazzled feelings. By adding a few simple hacks to your routine you can suffer fewer travel–related headaches and enjoy a smoother journey all around.
1. Keep your important documents travel–ready
Before you fly, make sure your documents — passport, license, credit cards — are scanned and stored in a password–protected spot on your mobile device. Storing paper copies in your checked luggage can also be helpful. If you do end up losing your passport, having those documents on hand may streamline the replacement process. Also key: If you're traveling with multiple credit cards, don't carry them all on your person. Having one or two in the hotel safe will ensure you have a way to pay if your wallet does get misplaced.
2. Consider TSA PreCheck
Even if you don't fly frequently, enrolling in TSA PreCheck or Global Entry can pay off in avoiding delays, especially if you're traveling at a busy time of year, such as summer or before holidays. I've timed every US re-entry since I've been using this service and it takes me an average of 8-minutes to hit the curb once I've stepped off the plane. This is the best wellness travel hack I've learned in years, says Linden Schaeffer, founder of Prevassa, a wellness travel company.
3. Keep travel essentials packed
If you're a frequent traveler, a travel uniform can help you get out of the house and through security ASAP. Avoid wearing belts, scarves, heavy metal jewelry, and laced shoes, as you may have to remove them all when passing through security.
Consider creating a travel-specific bag already packed with essentials: Your go-to liquids, a scarf, a sweater, some socks, and chargers and headphones that are for travel only. And the best place to store this bag? Inside your regular travel suitcase: By storing them together, you'll minimize the where did I put this panic.
My travel wardrobe is dedicated for travel so that it is always laundered and ready to go. It's also color coordinated so everything mixes and matches, says Janice Lintz, a travel writer who's been to over 100 countries and travels frequently for work. All my travel items are stored together so that everything is easily locatable. My toiletries are always packed. I have a packing list on my computer so that nothing is omitted.
Another helpful tip: refill and repack toiletries at the end of trips instead of at the beginning, so you won't have to worry about running out or if you've packed everything.
4. Save more with strategic booking
Don't let money be a stressor on vacation. Instead, shop online creatively by changing the sale city for your itinerary.
When I'm booking, I always book on airline sites directly, not aggregators, says Nicole Marie, a New York City based travel blogger. I recently booked a trip to Colombia, South America, and was able to save $200 because I changed my 'sale city' to Bogota — my destination. Another way to save on international travel: Consider comparing the price you would pay in local currency versus dollars. While you should check international transaction fees with your credit card company, the local currency may be a less expensive option.
If you're traveling with multiple people, experiment with different combinations of travelers. I always check the price of one person, as well as multiple people, when I fly with my family, says Josh Bender, a travel blogger. More often than not, the price is cheaper when it's one person flying. When you check one person first, then change the quantity of tickets needed, I find that more often than not, the site locks in the one-person rate, saving money. In other words, it pays to play before you book.
5. Give your credit card company a heads-up
There's nothing worse than arriving in a foreign country and finding out that your card won't work. Oftentimes, this is a measure designed to protect you — when the company sees a transaction attempt in a different city or country, your issuer may block it and lock your account because the company assumes fraud. By calling the card company and letting them know you'll be traveling, not only do you help ensure that your card will work abroad, but you're able to ascertain details about whether or not your card has foreign transaction fees and what they are, as they could add up.
6. Pack some extras
A sound machine can make the difference between a good night's sleep and a restless evening listening to your hotel room neighbors, says Stephanie Mansour, a travel expert. Other travel experts swear by a luggage scale, packing cubes, or a power strip. The point: You know your annoyances. Instead of complaining about them — luggage that gets flagged for being too heavy, never enough outlets for your tech — find a solution well before you fly, say travel vloggers Josh and Ashley Brown.
7. Aim for an early morning flight
Yes, it's a pain to wake up and head to the airport at 4am, but the benefits are worth it: Less congestion en route to the airport, less expensive flights, and possibly less turbulence, as thunderstorms tend to happen later in the evenings, says Emily Jones, travel expert at Simply Thrifty Living. Also, flight delays tend to build up over the day, which means an early morning flight could help you depart and land on time.
8. Be souvenir savvy
Have family and friends who are dying for a gift from an international destination? Instead of spending money at a pricy souvenir stand, hit the local grocery store. I always buy nonperishable items like mustards, oils, salts, or preserves. Add a dishtowel or wooden spoon and it's a unique gift for a fraction of the price of what you might pay at a store that caters to tourists, says Erin McGann, a travel blogger.
9. Explore loyalty programs
Signing up for the loyalty program for an airline , rental car company, and hotel prior to your trip — which may be free, depending on the company — can result in waiting in shorter lines, getting potential upgrades, and potentially getting freebies, such as a credit for a hotel bar or a waiver on a breakfast fee. If you're planning a big trip, it's also smart to look at what travel credit card may give you the most travel rewards, as you're likely to be spending more per day than you might at home. You may also enjoy stress-relieving perks such as admittance to program-specific airline lounges and faster check-ins.
10. Research local apps
While many apps we use in the US translate to other countries, relying on them for recommendations may mean you end up at the same jam-packed restaurants, hotels, and attractions every other tourist tries. Instead, before you leave, look up local apps online, downloading a few local ones, and switching the language to English. That way, you may get some more off-the-beaten path recommendations to try, says Annalisa Fernandez, an intercultural strategist.
11. Plan your coverage
If you're heading on an international trip, figure out what your phone company charges for international data and consider purchasing a plan. Another option: Keep an old phone instead of exchanging it for an upgrade. The older cell phones can be unlocked once they are out of contract. You can simply pop a local SIM card in an unlocked phone to stay connected as you travel, rather than racking up a huge roaming bill! I average $15 a month when on cell service in most countries I travel to, says travel blogger Nathan Aguilera.
12. Plan for the worst, but hope for the best
Finally, make sure to keep information such as hotel or rental address and phone number stored in your mobile device as you'll refer to them frequently. And write down the address and contact information of the nearest U.S. embassy if you're traveling abroad. Chances are you won't need it, but if you do, you'll be glad it's handy.
[Writer bio] Anna Davies has written for The New York Times, Glamour, Marie Claire, Men's Health, Women's Health, Refinery29, and others.
Additional Resources

Utilize these resources to help you assess your current finances & plan for the future.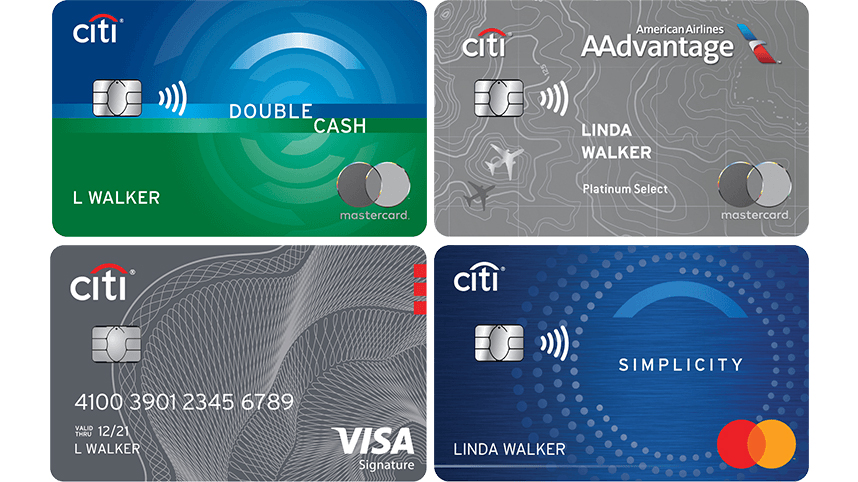 CITI® CREDIT CARDS
Choose the right Citi® credit card for you
Whether you want Cash Back, Great Rewards, or a Low Intro Rate, the choice is all yours.
Learn More >