​
Working Together to Make a Difference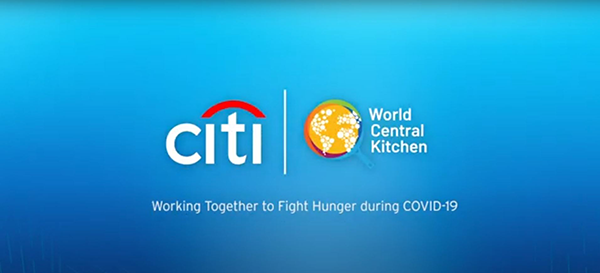 Click on picture to view video

Citi Community Capital (CCC) received an outpouring of support from clients to expand World Central Kitchen's (WCK) #ChefsForAmerica relief effort, which provides fresh, healthy meals to individuals in need, as COVID-19 has intensified another crisis: hunger. "Marcus Samuelsson called me to explain what he was doing with World Central Kitchen and the distribution of food in Harlem,"" remarked Ron Moelis, CEO, L+M Development Partners. "We were able to work with him in our affordable buildings and neighborhoods to distribute that food, and asked Citi Community Capital to expand our reach with its local clients and developers." CCC and its clients contributed $875,000 to bring over 100,000 meals to residents in public and affordable housing properties managed by our clients. This partnership goes beyond a financial commitment, however, as we have connected our clients with WCK to identify those in need and to deliver meals from WCK's kitchens and distribution points to each person or family. This program further helps the heavily-impacted restaurant industry, its workers and associated supply chains. "This partnership demonstrates that we don't just finance affordable housing, and our clients don't just build and operate commercial real estate," John Heppolette, Head of Municipal Markets and Finance at Citi. "We care about the wellbeing of the residents, which of course also has long-term benefits for the reputation and operating performance of the properties that we finance." "We are proud to support the work of World Central Kitchen and partner with Citi on this important effort," said Donald Capoccia, Principal of BFC Partners. "In the aftermath of COVID, everyone must reflect on how we can better support our neighbors. This pandemic has shown just how important our city's affordable housing is -- and ensuring all New Yorkers have a safe and affordable home in addition to a reliable source of food is of the utmost importance to us." "Our partnership with Citi Community Capital doesn't end when a transaction closes. Their continued commitment to our properties and residents allowed us to come together - along with World Central Kitchen - to provide some support to our residents during this pandemic," said Scott Alter Co-Founder and Principal of Standard Communities. "For our residents to know that they will have food on their table, and don't need to leave their homes to get it, hopefully reinforced the strong sense of community that Standard strives to foster at our properties. Jonathan Rose of Jonathan Rose Companies remarked, "The Covid 19 pandemic revealed the frayed nature of America's fabric of social support. Amongst the gaps were to the food system. The Jonathan Rose Companies is very grateful for the opportunity to join Citi in supporting World Central Kitchen to help create jobs and address the food needs of Central Harlem. "As a mission-driven company, BRP has always enjoyed developing in the affordable housing space as we believe that regardless of your income level, the option to live in a safe neighborhood and building is vital to the growth and success of equitable societies," said Meredith Marshall, co-founder and managing partner at BRP. "Right now, Americans across the nation are feeling the impacts of Covid-19, particularly lower income Americans and communities of color, which has affected many people's ability to obtain sources of food. Just as access to a safe place to call home is vital, so is having access to meals. World Central Kitchen's efforts through providing over 11 million meals to date across the nation exemplifies a very similar dedication through banding together as a nation in order to provide equitable food access for all. At BRP, we are thrilled to be able to aid them in their continued efforts throughout these tough times."

Citi Community Capital has been the largest affordable housing lender in the U.S. for the past 10 years

, and this campaign shows that, in addition to our commitment to provide affordable housing in communities where it is sorely needed, Citi is committed to helping our communities and clients through even the most difficult of times. To date, Citi and the Citi Foundation have committed more than $100 million in support of COVID-19 related community relief and economic recovery efforts globally.

If you are not the intended recipient of this message, please promptly notify the sender of the transmission error, delete this message and do not disclose or make improper use of it. Electronic messages are not necessarily secure or error-free and can contain viruses, and the sender is not liable for any of these occurrences. Please go to https://icg.citi.com/icg/data/is_disclaimer.htm for additional information and other important disclosures. This message is for the internal use of the intended recipients and may contain information proprietary to Citi which may not be reproduced, redistributed, or copied in whole or in part without Citi's prior consent.
​

Citi Community Capital © 2020 Citigroup Inc. All rights reserved. Citi and Arc Design is a registered service mark of Citigroup Inc.
​
​